The Ultimate Guide On How To Play Roulette
If you want to know how to play roulette and win, you're in the right place. Our expert guide will lead you through the basics and hopefully make you a better player. Roulette is one of the easiest games to understand. Placing bets takes seconds, and there are just a few basic wagers to get to grips with. But with more knowledge of the house edge and some simple strategy, you can make a real difference to your bankroll. On this page you will learn more about:
● Roulette bets and table layouts
● Exciting roulette variations found online
● Good betting strategies to help make your bankroll go further
How To Play Roulette
Online roulette is one of the simplest casino games for players in South Africa. You will find at least one variation of roulette at all good internet casino sites. Here's a simple guide to start playing online.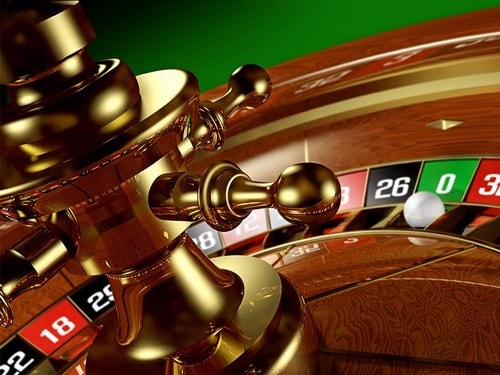 1-Pick A Good Roulette Casino
Choosing the right casino is an essential first step. Our recommended list of South African roulette casinos are all secure sites, have great bonuses, and a wide selection of roulette games to play.
2 – Open a Roulette Game From the Lobby
Choose your game in the lobby and open it for free play or real money. A well-designed casino lobby will clearly display the minimum and maximum stakes available for that table.
Most good online roulette games are powered by Flash or HTML5 and will work in a web browser. Some South African casinos will let you download roulette to your desktop.
3 – Place Your Bets
First, pick your stakes by clicking on the chip values on the screen. There is usually a minimum stake for betting on 'inside bets' and a larger minimum value for 'outside bets' like red and black. There are dozens of different bets available, all determined by where the ball falls in a spinning wheel.
The table layout displays what bets you can make. Players can place bets on one of the 37 or 38 single numbers ('Straight Up'), or groups of numbers. The more numbers you cover, the lower the payout. For example, if you bet on all red numbers and win, your payout is just 1/1.
4 – Hit the Spin Button
Once you are happy with all your wagers, hit the spin button. The computerised wheel will spin, and a ball will randomly come to a stop in one of the wheel pockets. Any winnings are automatically calculated and paid out to the player. The game then begins again.
5 – Repeat Your Bets
At the start of a new roulette game, you have the option of repeating your previous bets. You can also clear your winning chips and pick new numbers to bet on.
The Different Types of Roulette Bets
When you learn how to play roulette, it's vital to understand the full range of betting options available. Different bets have different roulette odds, depending on how many numbers are covered in a single spin.
Inside Bets:
Inside bets are made on the section of numbers in the middle of a roulette table. Bets can be placed on individual numbers or groups of numbers.
Straight Up
A bet on a single number from 0-36. The straight up bet pays 35/1. In European Roulette, there is just one zero. In American Roulette, you will find a 00 pocket as well.
Split
This bet is placed on two numbers adjacent to one another on the table. The chip is placed on the line between the two numbers. A split bet pays 17/1.
Street
A street bet is a wager placed on three adjacent numbers (e.g. 1-2-3 or 10-11-12). A street bet pays 11/1.
Corner/Square
A corner bet is placed on four numbers at once that form a square block on the table (e.g. 1-2-4-5 or 22-23-25-26). A corner bet pays 8/1.
Five Numbers/5-Line
This bet can be found in American Roulette. It's a single bet on the numbers 0-00-1-2-3 and pays 6/1.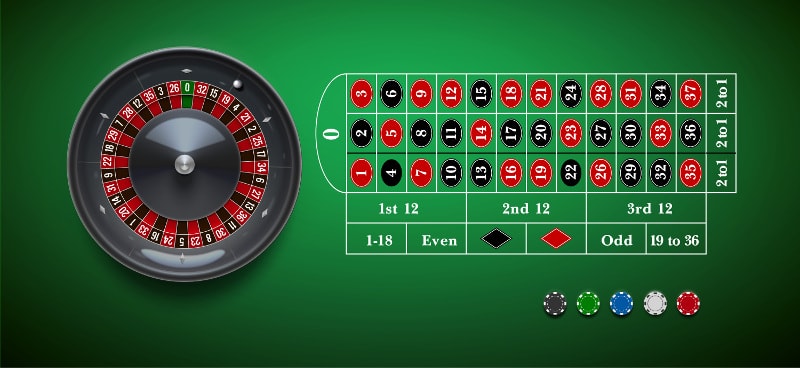 Traditional Roulette Table
Line
A line bet is placed on six numbers at once, or two rows of adjacent numbers (e.g. 1-2-3-4-5-6 or 16-17-18-19-20-21). A line bet pays 5/1.
Outside Bets:
Outside bets are made on the areas outside the central block of numbers. Outside bets tend to be on large groups of numbers. Roulette payouts can be much lower with outside bets.
Columns
There are three columns to bet on when you play roulette online. Each column contains 12 numbers, but the 0 and 00 aren't included. A column pays 2/1.
Dozens: The 36 regular numbers are split into three dozens – 1st 12 (1-12), 2nd 12 (13-24), and 3rd 12 (25-36). The 0 and 00 aren't included in the dozens. A dozen bet pays 2/1.
Red/Black
It is possible to bet on the colour of the number rather than the number itself. You can choose red or black, and a successful bet pays 1/1.
Odd/Even
This is a bet on whether the number spun will be odd or even. A 0 or 00 will result in a losing bet. Odd and Even bets pay 1/1.
Low/1-18
A bet on the numbers 1-18 appearing. This bet pays 1/1.
High/19-36
A bet on the numbers 19-36 appearing. This bet also pays 1/1.
Racetrack
At good roulette casinos, you can sometimes place bets on the racetrack. This is a diagram displaying the position of the numbers as they appear on the roulette wheel.
Roulette Game Variations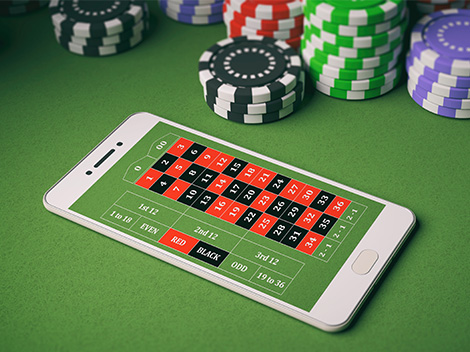 Now that you know how to play roulette, you need a good variation to try. Luckily, South African players will find a decent range of roulette games at the best casinos. Some variations can only be played online and won't be found in your local bricks 'n mortar casino.
European Roulette: This popular form of roulette can be found at all good online casinos. Players place bets on the numbers 1-36 plus the single green 0. The house edge in European Roulette is 2.7%.
American Roulette: Popular in land-based South African casinos, American Roulette features both 0 and 00 slots. This gives players another Straight Up number to hit, but also increases the house edge to 5.26%.
French Roulette: South African gamblers can enjoy this unique variant at the best new online casinos. French Roulette features a special 'La Partage' insurance bet if you place an even-money outside bet. If the green zero (0) appears, half your stake is returned. This feature reduces the house edge to 1.35%.
Multi-Ball Roulette: This unique online roulette variant features a wheel with a choice of 1, 2 or 3 balls spinning at once. The more balls you choose, the lower the payout. However, the more balls there are, the better your chances of hitting a winning spin.
Multi-Wheel Roulette: Multi-Wheel Roulette lets you place bets on up to eight wheels at once. Players still place bets on a table layout, but the same bet is played out on multiple wheels.
Progressive Roulette: Progressive Roulette gives players the chance to win a share of a jackpot if they hit a special coloured section on the wheel. Other variants, like Microgaming's Roulette Royale Progressive Jackpot, pay out a special prize if the same number appears on five spins in a row.
Live Dealer Roulette: Good roulette casinos will also offer live roulette, or live dealer roulette. Live roulette lets you play games against a human croupier. A trained dealer in a studio or casino will spin a real wheel with a real ball. Bets are placed online via the casino website. Special cameras pick up the winning numbers and prizes are paid out straight away.
Roulette Strategies To Adopt
There are plenty of roulette tricks to test, but not all will guarantee profits. Roulette, after all, is a game of luck, and the house edge means that in the long term the player will lose to the casino.
The most important strategy in roulette is managing your bankroll. Stick to sensible outside bets that offer the chance of smaller, but lower-risk returns.
If you want to try roulette strategies, most casinos will let you practice with play money first. Let's check out a few betting systems to try online.
Martingale: This is one of the simplest roulette tricks to try. Players stick to outside bets that pay even money. After a losing bet, the wager is doubled, and doubled again if the next bet also loses. Once you win, you reset your stake to a base ZAR unit.
The Martingale is simple to implement but losses can grow following a long downswing.
Labouchere: Like the Martingale, the Labouchere focuses on even-money bets. Wagers are made depending on a sequence of numbers devised by the player themselves.
The first bet is worth the total of the first and last number in the sequence. If you win, those two numbers are erased from the sequence. The next two numbers on the sequence are then added together to come up with the next wager value. If a bet loses, a higher number is added to the sequence and the process starts again.
The aim of the Labouchere is to end up with a set, clear profit after making a series of wagers.
D'Alembert: The D'Alembert system is a negative progression staking plan like the Martingale. Stakes still increase following a losing bet, but the jumps aren't as steep as in the Martingale. A losing streak, therefore, isn't so hard on South African roulette players.
Fibonacci: The Fibonnacci roulette plan is named after the famous mathematician. The system requires players to place even-money bets adhering to the Fibonacci sequence. The stake is equal to the sum of the previous two numbers on the sequence. Following a winning spin, the stake drops down two places on the sequence.
Like all negative progressive plans, roulette strategies like the Fibonacci have risks if you hit long downswings.
A Guide To Basic Roulette Terms
You know how to play roulette and win using some basic strategies. Now arm yourself with our handy roulette glossary and hit the online roulette casinos today.
American Roulette – Variant of roulette featuring 36 red and black numbers, a green 0, and a double green 00.
Bankroll – Disposable cash to bet with
Bet – Wager on a game of roulette
Clear Bet – Remove your current wagers from the table
Column – Group of 12 vertical numbers, paying 2/1.
Croupier – Dealer who handles the action.
Dozen – Group of 12 numbers (1-12, 13-24, 25-36).
European Roulette – Variant of roulette featuring 36 red and black numbers, and a green 0.
Even money – Bet that pays 1/1.
French Roulette – Variation of roulette featuring the La Partage and En Prison insurance rules.
History – List of previous results in a game of roulette.
House Edge – Statistical advantage the casino has over players.
Inside Bet – Wager on the numbers or columns.
Live Dealer – Online roulette variant featuring real-life croupiers.
Multi-Ball – Online roulette variant featuring up to three balls.
Multi-Wheel – Online roulette variant featuring up to eight wheels.
Odd/Even – Outside bet on the result of the next number (odd or even).
Outside Bet – An even-money bet on Odd/Even, Red/Black, or Dozens.
Racetrack – Betting layout according to the arrangement of the numbers on the wheel.
Random Number Generator (RNG) – Computer software that governs the outcome of a roulette spin.
Red/Black – Outside bet on the colour of the next number. Pays 1/1.
Repeat Bet – Play the same wagers again.
Straight Up – Bet on a single number. Pays 35/1.
Undo Bet – Delete previous bet.
Wager – Another word for bet.
Wheel – Equipment used in roulette. Determines the outcome of the numbers.
Zero – Special numbered pocket on the wheel and is coloured green.
Ready to start playing? Check out our recommended roulette casinos and start winning today.
Top Roulette Casinos in 2021
1st Deposit Bonus
R3,333 + 77 Free Spins
Casino Highlights
Convenient mobile app for on-the-go access.
A great selection of reliable payment methods.
A fantastic variety of casino games for every type of player.
Payment Methods
Casinos Software
WMS
Novomatic
Bally
Elk Studios
Just for the Win
Blueprint Gaming
High 5 Games
Microgaming
Barcrest
NetEnt
Amatic
Big Time Gaming
+ 3 more available
1st Deposit Bonus
Up to R3,500
Casino Highlights
Excellent VIP loyalty program
Daily 15% cashback on losses
ZAR currency deposits accepted
Payment Methods

1st Deposit Bonus
R1,500 + 300 Free Spins
Casino Highlights
Bonus Wheel and daily cashback
Bitcoin deposits and withdrawals
Easy and secure payments
Payment Methods
Casinos Software
Kalamba Games
Microgaming
NetEnt
Oryx Gaming
PlaynGo
QuickSpin
Red Tiger Gaming
1st Deposit Bonus
R3,000 + 20 Free Spins
Casino Highlights
24/7 customer support
Several payment options
A good VIP scheme
Payment Methods


Casinos Software
Amaya
Cryptologic
NeoGames
NetEnt
1st Deposit Bonus
Up to R2,000 + 30 Free Spins
Casino Highlights
Try the games with a no deposit bonus
Benefit from a ZAR exclusive casino
Claim tailored daily deposit matches
Payment Methods


FAQs
Can casinos rig roulette?
Online casino software is rigorously tested by external auditors before it hits the lobby. Reputable and licensed casinos will never hack into roulette software to fix the RNGs (Random Number Generators) governing the wheels.
What number hits the most in roulette?
A safe and reliable roulette wheel will always be random in determining which numbers appear. Statistically, no one roulette number appears more than any other. However, that doesn't stop players scanning the 'History' display for patterns.
What is the safest bet in roulette?
The safest roulette odds are the even-money outside bets like odd and even. The riskiest bet is the Straight Up number that pays 35/1.
Can you bet on red and black in roulette?
Yes. Red and black bets pay 1/1, but if the green zero appears, all red and black bets will lose.
Which is the best roulette game to play?
The best roulette online for low house edge is French Roulette. Because of the insurance, the house edge is as little as 1.35%. Progressive Roulette has a higher house edge but games can award prizes worth millions of Rand.