Emperors Palace Hotel Casino Resort Review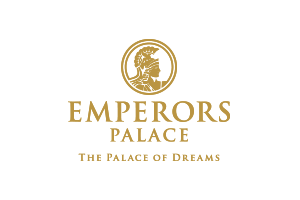 ● Address: 64 Jones Road, Kempton Park, Johannesburg, 1620
● Phone: +27 11 928 1000
● Opening hours: 24 hours, 7 days a week – tables open at 11h00 until closing time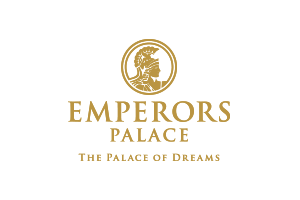 Delight In The Palace Of Dreams
An unparalleled entertainment experience awaits you at the opulent Emperors Palace Hotel Casino Convention and Entertainment Resort, located a short distance from the international O.R. Tambo airport in Johannesburg. This luxurious property will delight the senses with its extraordinary variety of accommodation, dining, and entertainment options.
The Peermont group-owned complex features not one, but four exquisite top-rated hotel establishments where you can choose to stay during your visit. It's to be expected, then, that the casino premises should match the hotels' extravagance.
And they certainly do, with the casino floor featuring over 1500 slot machines and scores of game tables. You'll also find four semi-private gambling rooms which cater to smokers and non-smokers, alongside a number of Privé areas spread throughout the casino floor.
There are a dozen restaurants that cater to all palates, whether you're seeking the best traditional Indian fare or a distinctly South African gourmet experience. The complex also boasts a host of great attractions, among which are an exquisite day spa complete with sauna and steam room, cinema halls, a children's arcade, and a choice of bars and theatres.
As with all of Peermont's casinos, Emperors Palace houses an overwhelming 29 conference venues with state-of-the-art facilities for hosting various events.
Receive More Rewards, More Often
As it forms part of the Peermont group, the Emperors Palace Hotel Casino Convention and Entertainment Resort offers you the chance to join the exclusive Winners Circle gaming rewards programme.
This gives cardholders access to a variety of benefits, rewards, and exclusive discounts. Accumulated points can be played back, or they can be used to purchase a range of discounted merchandise available at Peermont's best resorts.
As a member, you can take advantage of generous discounts when purchasing wine online through the Winners Circle Wine Club, fantastic reductions on everyday bed-and-breakfast accommodation, at least 50% off accommodation on selected Winners Circle Nights, and much more.
The sign-up process is simple and should take no time at all. You only need to display a form of identification at the Winners Circle Guest Relations Desks to get started.
Sheer Opulence Is The Name Of The Game
The casino complex at Emperors Palace enjoys a timeless classical Roman elegance, and it's clear that no expense or detail has been spared in its design. The superb finishings throughout the property add to the overall sense of sophistication while still creating a warm and welcoming ambience for visitors.
The resort presents four impressive hotels which you could choose from as your accommodation. These are the award-winning, five-star Peermont D'oreale Grande, the stunning four-star Peermont Mondior hotel, the spacious three-star Peermont Metcourt Suites, and the contemporary select-services, three-star Peermont Hotel.
The Peermont D'oreale Grande boasts 182 magnificently furnished rooms and suites. The hotel's unrivalled elegance is complemented by supreme comfort, luxurious features, and splendid facilities such as the Business Centre Lounge. Located on the top floor, the Lounge is the ideal venue for discerning business travellers in search of a state-of-the-art meeting space.
As a guest of this five-star hotel, you also have access to a host of spectacular amenities. Among them are the sumptuous Aurelia's Restaurant, the decadent Octavia's Sensorium Day Spa, and Neptune's Pool Bar.
The 4-star Mondior Hotel blends African style with sheer elegance across its 150 spacious rooms and suites, decadent Oriana Restaurant, and sophisticated Silver Moon Bar.
At the award-winning Peermont Metcourt Suites, you can stay in one of 77 spacious contemporary units offering you both smoking and non-smoking options, with a lavish breakfast served at the Primavera restaurant.
There are 348 stylish and comfortable rooms available at the 3-star Peermont Metcourt Hotel. Here, you can take in the modern architecture and lounge on the private pool terrace surrounded by a manicured garden. The property also houses the F.L.A.G Café, the 21֯ cocktail bar, as well as a cutting edge boardroom and business centre.
Accommodation in all four hotels comes with great facilities. These include, but are not limited to, air conditioning, satellite TV, and complimentary Wi-Fi service.
Experience Nothing Short Of Gaming Excellence
You're in for a great player experience at the Emperors Palace, with 67 gaming tables and 1724 slot machines spread out across the main casino floor and private gambling areas. Here you can also take advantage of the widest possible range of denominations, starting from 1c and going up to R500 for slots. Minimum table bets range from R5 on roulette and R25 on blackjack, to R50 on poker and R100 on midi punto banco.
While the table games vary from one casino section to another, they include American roulette, baccarat, blackjack, Hold 'Em poker, midi punto banco, and poker. The expansive property houses a number of subsections within the Privé area. These comprise the Slots Privé as well as the Salon Privé, where you'll find three additional sections – namely the Regency Room, the extraordinary Imperial Suite, and the Garden Court Privé.
If that wasn't enough, there are four more semi-private gaming areas. They all feature a mix of traditional reel machines, multi-line video reels, and progressive machines. One of these rooms specifically caters for smokers who wish to wager on slots and table games, alongside a few other smoker-friendly areas available throughout the casino floor.
Three exclusive private gaming rooms – the Privé Romana, Privé Palermo, and Privé Verona – are accessible by invite only. Here you'll be treated to individualised service, including a dedicated cash desk plus private area access that's strictly controlled by an exclusive elevator and state-of-the-art biometric technology.
Get Ready For A Feast For The Senses
With a choice of top-rated restaurants available on-site, you can pick from international buffets, fine dining, contemporary Asian cuisine, classic Mediterranean dishes, and much more. There are twelve restaurants that are accessible to the general public, plus a large selection of fast food franchises for late-night snacking or eating on the go.
The Taste of Mumbai is a must for those looking to experience traditional Indian specialities prepared with the very finest herbs and spices. If you'd like to sample traditional South African meat dishes, pop in at the Tribes Restaurant, where you'll be able to order the very best grilled fare.
A mouthwatering dining experience awaits you at the ever-popular Aurelia's restaurant. The à la carte dinner menu here introduces elements of molecular gastronomy paired with an exquisite fusion of modern Mediterranean and South African specialities.
You're in for some eclectic evening entertainment each time you stay at the Emperors Palace Hotel Casino Convention and Entertainment Resort. There's always an exciting programme of regular performances by local and international artists, stand-up comedy, and musicals held at the many state-of-the-art venues, which include the Centre Court Arena, the Theatre of Marcellus, and the Odeon Showbar.
Should you fancy a post-show nightcap, Marc Antony's Cigar Lounge sports an overwhelming collection of the world's finest cigars, premium cognacs and whiskies, as well as South Africa's most prestigious wines.
If your idea of holiday bliss is a pampering day at the spa, visit the world-class facility located at the Emperors Palace resort. Complete with Roman Bath and Swiss Shower facilities, Octavia's Day Spa is renowned for its wide range of indulgent treatments, massages, and beauty products guaranteed to make you glow.
The fun never stops at Emperors Palace, with a wide range of children's facilities designed to accommodate the needs of travelling families. Among these is a modern arcade, a number of virtual reality rides, as well as Nu Metro digital 3D movie theatres. The spectacular movie complex also features the newly introduced 4DX multidimensional cinema experience.
Catering for conferences and events in an exceptional manner is always a priority for Peermont properties. This particular casino is no different, with the Emperors Palace Convention Centre offering multiple configurations for holding events for a maximum of 3000 people.
The convention centre regularly hosts summits, exhibitions, and international conferences, among other activities. The 29 state-of-the-art facilities available here are equipped with dedicated catering and organisational teams, who are on hand to assist with any event.
A Casino That Exceeds Expectations
The massive complex at Emperors Palace is home to an impressively vast menu of leisure activities guaranteed to thrill visitors of all ages.
This is coupled with a remarkable choice of accommodation, consisting of four chic hotels focused on treating guests to the very best service and amenities. Those looking for a conference venue have stumbled upon a remarkable find, with Emperors Palace excelling at hosting and catering for functions at no fewer than 29 venues.
Emperors Palace is certainly worth a visit, and thanks to its close proximity to the airport, it's a must for travellers who have extra time on their hands. We rate this casino property 4.5/5 stars.